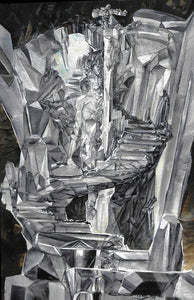 Real Fantastic Art
Temple of Galena Platinum (Perception)
Regular price
$10.00
$0.00
Unit price
per
Temple of Galena Platinum painted by artist C.S.Hawks. Originally crafted with acrylic paint, on graphite pencil, on canvas panel.
Prints of the painting are available for sale in 2 sizes on satin paper card stock that are signed on the back for authenticity by the artist.
A made to order special canvas panel print production is available with embellishment of texture on the canvas print performed by our artist, and framed.

The canvas panel print is made and mounted to it's panel in the way of the "Prestige Technique" Hand painted embellishments are brush sculpted by the artist with a unique technique working in acrylic medium, and continuous cure monitoring. A  Certificate of Authenticity is mounted on the back, Signed by the artist C.S.Hawks.
---