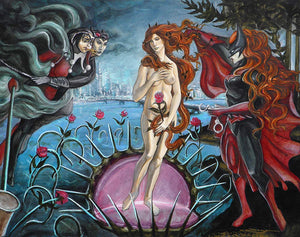 Real Fantastic Art
(Modernizing the Masters) Transformation of Ivy
Regular price
$10.00
$0.00
Unit price
per
A reinvention of Early Renaissance masterpiece The Birth of Venus by Alessandro di Mariano di Vanni Filipepi, best known as Sandro Botticelli.
The Transformation of Ivy is the fourth installment to the Modernizing the Masters collection by artist C.S.Hawks. During the time that this painting was created the artist went by his student name C.Wilson. This artifact has been signed C.Wilson on the original painting and can be seen in the right bottom by careful inspection. This painting was hand crafted with a variant of the Old Way of The Prestige Technique.
This parody remake was hand drawn & painted from scratch with graphite pencil & acrylic paint.
Prints of the painting are available for sale in 2 sizes on satin paper card stock that are signed on the back for authenticity by the artist.
A made to order special canvas panel print production is available with embellishment of texture on the canvas print performed by our artist, and framed.

The canvas panel print is made and mounted to it's panel in the way of the "Prestige Technique" Hand painted embellishments are brush sculpted by the artist with a unique technique working in acrylic medium, and continuous cure monitoring. A  Certificate of Authenticity is mounted on the back, Signed by the artist C.S.Hawks.
A "Remake Renaissance", On the Shoulders of Titans, Real Fantastic Art Presents: Modernizing the Masters.
---