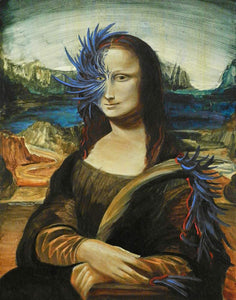 Real Fantastic Art
(Modernizing the Masters) Mona Mystique
Regular price
$10.00
$0.00
Unit price
per
A remake of High Renaissance polymathic master Leonardo di ser Piero da Vinci's most famous master piece the Mona Lisa.
The Mona Lisa Has Always Had A Mystique About Her is the second installment to the Modernizing the Masters collection by artist C.S.Hawks. During the time that this painting was created the artist went by his student name C.Wilson. This artifact has been signed C.Wilson on the original painting and can be seen in the left center by careful inspection. This painting was hand crafted with a variant of "the old way" of "The Prestige Technique".
Modernizing the Masters is a growing collection of art works created by artist C.S.Hawks. The paintings are hand drawn and hand painted from scratch, with a method called the Prestige Technique. The iconic image of a classical masterpiece is modernized with a parody reimagining of famous icons from pop culture. The series started in 2013 with the Vitruvian X Man, and has been steadily growing into The Mona Has Always Had a Mystique About Her, Birth of Cthulhu, etc... It is an evolution of classic ideas, transformed into new masterpieces for our times. Apropos Contemporary Zeitgeist Dada Surreal Multiversal Maximalist Creations (parody)
Prints of the painting are available for sale in 2 sizes on satin paper card stock that are signed on the back for authenticity by the artist.
A made to order special canvas panel print production is available with embellishment of texture on the canvas print performed by our artist, and framed.

The canvas panel print is made and mounted to it's panel in the way of the "Prestige Technique" Hand painted embellishments are brush sculpted by the artist with a unique technique working in acrylic medium, and continuous cure monitoring. A  Certificate of Authenticity is mounted on the back, Signed by the artist C.S.Hawks.
A "Remake Renaissance", On the Shoulders of Titans, Real Fantastic Art Presents: Modernizing the Masters.
---