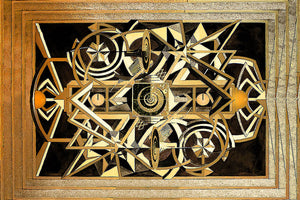 Real Fantastic Art
Gateway to Metroploton (Perception)
Regular price
$10.00
$0.00
Unit price
per
About the fantastic realm of Metroploton: 
Have you ever heard of the Akashic Record?
The legend of the Akashic Record says that it is the center of all known information. It is said to be a complete library of all of the knowledge of space, time, and the multiverses. Information for all sentient lives, and physical matter, past, present, and/or future, consciousness, intelligence, and the true nature of the universe, is said to be able to be accessed through the Akashic Record. It is unknown if the Akashic Record actually exists in physical space, or if it is merely a place that exists in the imaginations of intelligent beings.
If the Akashic Record is indeed the center of all of the information of the multiverse, then Metroploton is a city that is built around the Akashic Record library.
This mixed media work of art is serves as a representation to a Gateway to Metroploton
About the art: Hand drawn with graphite pencil on an 18"x24" smooth piece of masonite wood panel, then hand painted with gold tinted mica paint, and digitally mastered. This work of art has also been utilized for animation projects for Real Fantastic Art.
---