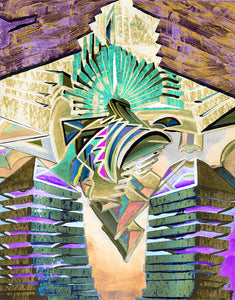 Real Fantastic Art
Deco Electro neo cubist folk art painting #8
Regular price
$10.00
$0.00
Unit price
per
Music decorates space; Art decorates time.
The neo-cubist, other-dimensional folk art of Metroploton, will help guide your imagination into manifesting ideas that may serve your reality well. 
(acrylic paint on card board, graphite drawing on paper, and digitally mastered by mixed media artist C.S.Hawks for the instrumental modern soundscape project Deco Electro in F#[Sharp) Minor
===================================================
Created for the Deco Electro project:
A super sonic portal to another dimension. A sterophonic Metroplotonic music instrumental soundscape journey that traverses alternative realms in a neo prog rock ambient nu disco maximilistic future synth sort of way.
---